High speed cameras: practical and easy to use
With industrial production lines, it can sometime be difficult to adjust a machine when a fault occurs. Maintenance teams often use high speed cameras to solve the issue. The cameras help them locate and fix the malfunction at its source.
These cameras are extremely useful for companies that have several assembly lines. But what are high speed cameras used for? How are they set up? How could your company benefit from the use of high speed cameras?
What are high speed cameras used for?
High speed cameras provide great support for maintenance teams that oversee industrial production lines. Easy to install, they capture the different malfunctions that can occur on a production line. Most normal cameras record up to 30 images per second. High speed cameras on the other hand, can capture up to several thousand images per second.
In doing so, they slow down the movements in the assembly line process. For example, at 500 images per second, the footage of one second in real time is slowed down to last roughly 20 seconds.
The aim of this slowing down is to ascertain the cause of a technical problem on the production line. Due to the speed of the machinery, faulty or non-compliant packaging cannot be seen by the naked eye.
This is why maintenance operators need cameras of this type. They enable the production line maintenance teams to analyse and correct the defect almost instantaneously.
A demonstration in pictures: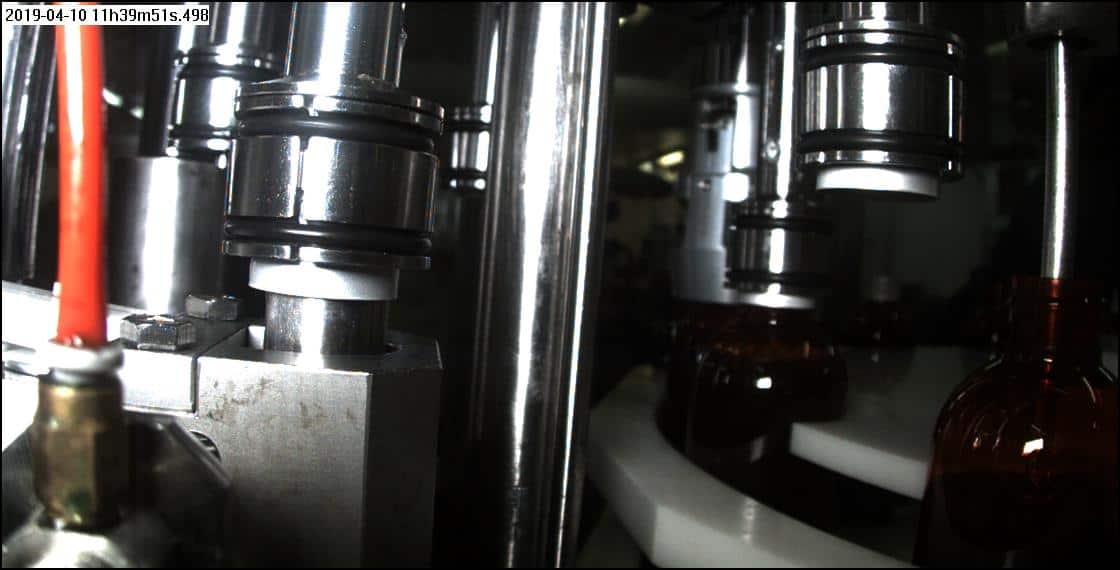 Whether it is damaged packaging, missing caps, or misalignment of a machine, the tiniest movement can be analysed by a high speed camera. On average, a factory that is not equipped with high speed cameras will lose between 5% and 20% of its production capacity. The use of high speed cameras makes it possible to identify and correct the issue in record time. High speed cameras are not fixed, and can be relocated at different points on the assembly line. Unfortunately some systems are often cumbersome and difficult to set up on site.
So if you are looking for a high-performance solution that is easy to use, our TroublePad high speed camera is made for you.
A comprehensive product that can be set up immediately
Our TroublePad high speed imaging system was designed by a partnership between our own teams and our clients, and provides maintenance operators with a simple, compact tool for identifying all of the problems that can arise on a production line. Consisting of a high speed camera, a tablet and a mount, the TroublePad only takes seconds to install.
Its compact design means maintenance technicians can set the camera up in whatever position they require. This can be beside the product line, or in a narrower space. Our high speed camera adapts to every possible environment. Its inbuilt lighting system guarantees a sharp image even at very high speeds.
Using the touchscreen tablet, the camera is driven by pre-installed software that enables the operator to follow the recording, or to watch the live video images. For more convenience, it is possible to enslave the camera to your production line thanks to the use of a trigger box. This box is optional, but has many qualities that allow the maintenance technician to save a lot of time. Using the trigger box they can:
Start and stop recording
Mark (highlight) the different images that will help fine tune the production line
Record and store a few seconds before and after the event
Set the system up in 'watchdog' mode, so that recording is automatically triggered when an error occurs
Other advantages of the TroublePad system:
Unlike other high speed camera systems, TroublePad takes no time to install and is operational immediately. This aspect really sets it apart from its competitors. Most of the high speed cameras on the market are difficult to install and have complex interfaces. With quick installation and ease of use the TroublePad high speed camera provides real benefits to the industrial maintenance teams that use it.
How do our high speed cameras help our clients ?
Our high speed camera is in use in many different industries all over France. TroublePad is an integral part of everyday operations for several major companies. As machine stoppage times are reduced and production is optimised, the factory is automatically more cost-effective. This is why our clients choose the TroublePad system. The high speed camera also enables them to improve the working conditions of their maintenance teams.
It is certainly the case for Moët et Chandon where our systems enabled the company to carry out complex adjustments and tuning on high speed bottling machines. Thanks to the TroublePad, the maintenance technicians were able to reduce production stoppage time dramatically on the bottling line. With the possibility of visualising the slightest offset and observe the machinery in slow motion, the operators were able to fine-tune the production line.
Another client, this time in the paper sector, also called on us for help. The famous Clairefontaine brand use our cameras to avoid paper jams during stacking and cutting. The TroublePad system has been in use in their factory since 2018, and has optimised their production by avoiding outage for maintenance.
Technical features
On the technical side, the camera uses the best technologies available on the market in terms of high speed image capture. One of the major features of the TroublePad is its high-resolution images, even at high speed. There are several different recording settings:
225 images per second (fps) at 1280 x 1024 resolution
570 fps at 800 x 600
835 fps at 640 x 480
1500 fps at 500 x 300
2500 fps at 320 x 240
To ensure you always have the best possible image quality, the TroublePad high speed camera comes equipped with an adjustable LED block. Using five AAA batteries, it provides 96 LED in total, optimal lighting of the subject to avoid blur and improve the resolution of the captured image.
The C-mount lens is a Macro-type lens with 8-48 mm focal length. Extra magnifiers can be added to increase the amount of zoom.
An adjustable mount (magic arm) is supplied. This gives the operator the freedom to set the camera up in the most useful areas. In the TroublePad carrying case, a 12 inch touch screen tablet is provided, its 256 GB SSD hard drive will be used to record the high speed videos of your production line.
And finally, a 12-inch touchscreen tablet is provided with the TroublePad. Many settings and software features are pre-installed such as:
Software to run the camera's main functionality
Loop recording, or long duration recording
Event marking
Forward and backward playback
Adjustable playback speeds
Sequence identification and export
The Fastec Imaging range, other powerful high speed cameras
While TroublePad is a very powerful tool that is easy to set up and use, the Fastec Imaging range also offers many high quality high speed cameras. They are bigger than the all-in-one TroublePad, but Fastec high speed cameras provide the user with a wider range of applications. The operator can slow the subject down to up to 112 000 frames per second with the bigger models such as the Hispec2.
Models in the TS5 range can capture up to 65 000 frames per second and store them on an SSD card of up to 2 Tb. These models have Wi-Fi capability so that the maintenance technician can operate the camera remotely. They are compact with a 7" touch screen, for controlling camera settings and image playback. These are high performance high speed cameras, requiring a more complex setup procedure than the TroublePad.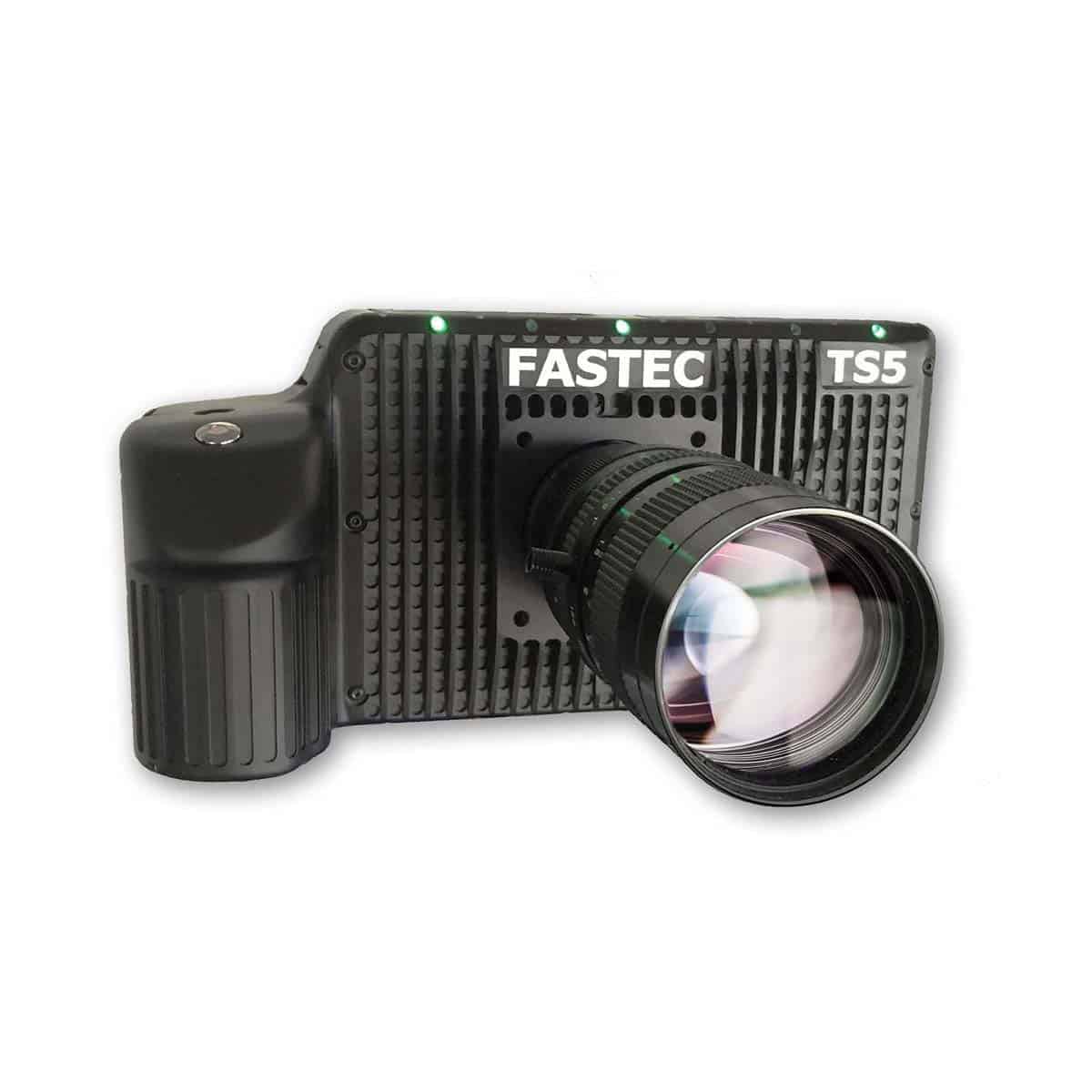 As we have seen, high speed cameras are powerful image capturing tools. They improve the quality of the work carried out by your maintenance operators, while increasing the cost-effectiveness of your production line. Cameras like the TroublePad are comprehensive tools. Simple to use and install, they adapt to all of your requirements. With their impressive image capturing capabilities, they reduce stoppage time on your production lines. Set up in 'watchdog' mode, they automatically locate the cause of the different problems that can occur on a high speed production line.
WHAT IS A HIGH SPEED CAMERA?
WHERE CAN A HIGH SPEED CAMERA BE USED?
WHAT IS INDUSTRIAL VISION?
WHAT ARE THE ADVANTAGES OF THE HIGH SPEED CAMERA?
WHAT ARE THE CRITERIA TO CONSIDER WHEN CHOOSING YOUR HIGH SPEED CAMERA?